New Ribbon Colours for Autumn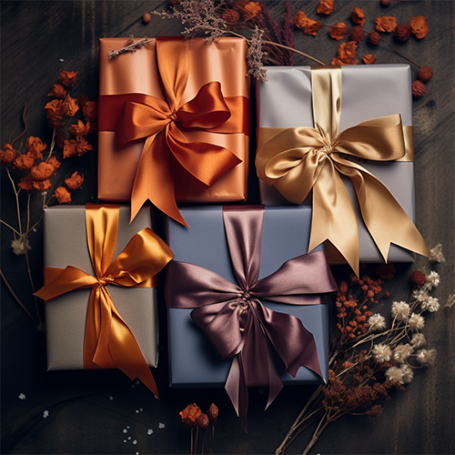 As the golden hues of autumn leaves start to embrace the landscape, we at Personalised Printed Ribbons are thrilled to unveil our latest collection of colour ribbons that are tailored to add that perfect finishing touch to your gift wrapping, hampers, gift boxes, and corporate promotions. With the magic of autumn in the air, we introduce four exquisite colours – Forest Green, Warm Orange, Copper, and Antique Gold, available in satin and grosgrain textures, designed to complement the season elegantly.
A Symphony of Autumn Hues
Our Forest Green ribbon echoes the deep, rich tones of the evergreen trees, bringing a touch of nature's elegance to your gifts and packages. The Warm Orange embodies the warm embrace of autumn, capturing the essence of cosy and inviting moments. Copper is inspired by the rustic yet refined tones of the season, adding a touch of sophistication. At the same time, the Antique Gold reflects the golden splendour of falling leaves, illuminating with its opulent glow.
Versatility at its Finest
Our ribbons aren't just about mesmerising colours; they epitomise versatility. Ideal for gift wrapping that exudes personal touch, adorning hampers with a ribbon of luxury, elevating gift boxes, or adding a dash of customisation to corporate promotions – these ribbons promise to transform every object they touch into a piece of art. With the option to print any design or text, personalisation knows no bounds.
Quality and Excellence since 2007
Having been printing ribbons since 2007, we take pride in being market leaders, not just for the unparalleled quality of our ribbons and print but also for our steadfast dedication to customer service. Each ribbon is a testament to our commitment to excellence, weaving quality, and creativity seamlessly.
Small Quantities, Big Impact
We understand the diverse needs of our customers. That's why we've made our gorgeous ribbons available for order in a minimum quantity of just 5m. Whether it's for an intimate gathering, a personal gift, or a corporate event, these autumn-inspired ribbons are poised to bring to life the elegance and warmth of the season in every knot and bow.
In the increasingly digital world, we ensure our products aren't just aesthetically and qualitatively superior but also have a strong digital footprint. Every product, including our new autumn collection ribbons, will ensure your social media is full of beautifully presented packaging for your customers.
Wrapping Up Autumn in Elegance
So, as the whisper of the wind rustles through the golden leaves and the cosy embrace of autumn beckons, let our new collection of satin and grosgrain ribbons in Forest Green, Warm Orange, Copper, and Antique Gold wrap your world in the warmth, elegance, and luxury of the season. At Personalised Printed Ribbons, we don't just sell ribbons; we weave moments, memories, and experiences. Unwrap the autumn season with us; let each knot, each bow, each ribbon be a journey through the heart of autumn, a dance in the golden light, a celebration of a season that, like our ribbons, weaves magic in every fold.
Discover a world where quality, creativity, and customer service intertwine like the elegant threads of our ribbons – Welcome to Personalised Printed Ribbons, where every ribbon tells a story, and every colour is a celebration of life's beautiful moments.
To explore our autumn collection and transform your gifts, hampers, and promotions into art pieces, visit our website or contact our dedicated customer service team. Let's wrap the world in the golden embrace of autumn, one exquisite ribbon at a time.
Get Started