Turn Your Home into a Winter Wonderland: How to Wrap Your House for Christmas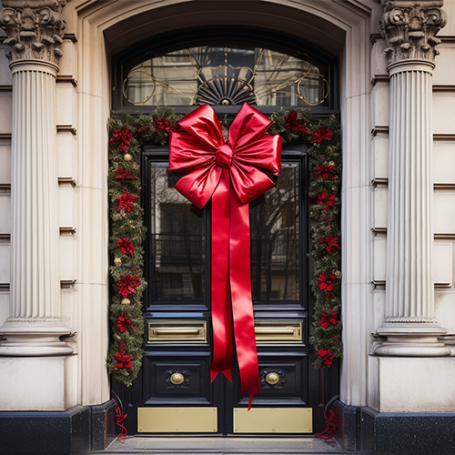 As the festive season approaches, the excitement to deck the halls and transform our living spaces into captivating displays of joy and warmth knows no bounds. Adorning your home with holiday cheer requires creativity, safety, and a sprinkle of Christmas magic. Here's a comprehensive guide to wrapping your house for Christmas in style.
1. Safety First
Before diving into the decorations, ensure the safety of the adornments and those enjoying them. Check the integrity of ladders and the quality of lights, and ensure outdoor decorations are weather-resistant and secured to withstand winter elements.
2. Plan the Aesthetics
Visualise your desired outcome. Would you prefer a classic, elegant look, a colourful and vibrant display, or a winter wonderland theme? Planning the colour scheme, lighting, and placement of decorations is pivotal for a cohesive and harmonious look.
3. Light It Up
Choosing the Lights
The variety of lighting options available, from LED to fairy lights to icicle lights, can accentuate the architectural features of your home. Consider energy-efficient and waterproof options for durability and sustainability.
Placement Techniques
Outline windows, doors, and rooftops to highlight the house's structure. Wrap tree trunks and branches to infuse your garden with a festive glow—illuminate pathways to welcome guests with warmth and safety.
4. Festive Decor
Wreaths and Garlands
Adorn doors, windows, and railings with lush, green garlands and wreaths.  Add a luxury door bow to the front door. Intertwine them with lights or add ribbons and ornaments for a touch of colour and texture.
Christmas Figures
Incorporate figures like snowmen, reindeer, and Father Christmas to bring the Christmas narrative to life. Place them strategically to create visual interest and storytelling.
5. Window Dressing
Stickers and Decals
Utilise Christmas-themed stickers and decals to transform windows into captivating visual displays. They are easy to apply and remove, offering a quick yet effective decorating solution.
Candles
Place candles on window sills to create a warm and inviting atmosphere. Opt for LED battery candles to mitigate fire risks.
6. The Grand Entrance
Door Decor
Consider a statement wreath or a creative door hanging that embodies the festive spirit. Ensure it complements the overall theme for a harmonious look.  Add a Door Bow to your front door.
Pathway Lights
Guide guests to the entrance with pathway lights, offering aesthetics and safety.
7. Nature's Touch
Incorporate natural elements like pinecones, holly, and mistletoe. They infuse an authentic touch, and their rich textures and colours enhance the overall aesthetic.
8. Final Touches
Don't forget the details. Check if the lights work harmoniously, ensure decorations are secure, and adjust any element to achieve the desired visual appeal and safety.
Wrapping your house for Christmas is a delightful endeavour that combines creativity, planning, and safety. By considering the architectural elements, the surrounding landscape, and the desired theme, every home can transform into a beacon of joy, warmth, and festive cheer, making each Christmas memorable and enchanting.
Get Started